Hello...If you're looking for the "How I Make a Yarn" tutorial, it may return.
I teach spinning privately and in groups. You can email me to see about
scheduling The Bad Girls Spinning Club or other workshops in your location/town.
[lindaATstoneleafmoonDOTcom] Thanks for all of your comments :)
Linda Scharf is an artist and explorer living just outside of Boston, MA USA.
She makes handspun yarn and unique freeform crochet hats which you can
see here:stoneleafmoon.com.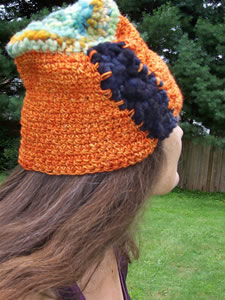 info:linda@stoneleafmoon.com